Acupuncture at Oasis Day Spa
Acupuncture services are available at Oasis Day Spa at 1 Park Avenue - visit AcupunctureAtOasis.com for more details.
To schedule your acupuncture session, please contact Connie directly at:
(917) 517-8220
BreukelenAcupuncture@gmail.com
About The Practitioner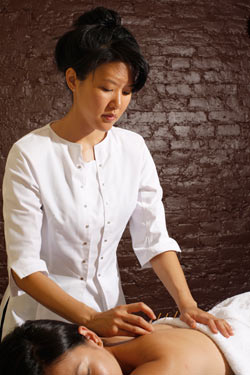 Connie Lynn Ma is a practitioner of Acupuncture and Traditional Chinese Medicine. She received her master's degree at Pacific College of Oriental Medicine in New York.  She has a successful history in treating a wide variety of conditions, with a special focus in treating mental-emotional and nervous disorders, digestive disorders, gynecological disorders, as well as a particular interest and affinity in treating dermatological disorders utilizing facial cosmetic acupuncture.
Connie is a New York State licensed Acupuncturist (LAc), with degree as a Masters of Science in Traditional Chinese Medicine (MSTOM). She also serves as a diplomate of the National Certification Commission for Acupuncture and Oriental Medicine (NCCAOM), and is a member of the Acupuncture Society of New York (ASNY) and the American Association of Acupuncture and Oriental Medicine (AAAOM). Connie is also a licensed New York State Esthetician and skin care specialist with experience in treating various dermatological conditions and associated treatments. She also has received her Bachelor of Science at New York University Leonard N. Stern School of Business with a major in International Business and Marketing and a minor in East Asian Language Studies (Chinese).
Mission
Connie is looking to introduce the efficacious, time-tested tradition of acupuncture and Chinese Medicine in an approachable and holistic manner.  She places utmost importance in guiding and showing her patients very simple things that they can do on a daily basis to assist in their healing process.
Connie uses Acupuncture and her thorough knowledge of Traditional Chinese Medicine to give her patients a complete and thorough diagnosis, and targets her treatments to not just alleviate symptoms, but to prevent and counteract the progression of disease and bring the body back to its' natural and maximum state of healing and balance in order to improve the quality of life for her patients in all aspects.
Services Offered
Acupuncture
Facial Cosmetic Acupuncture
Electrical Stimulation
Gua-Sha, Cupping, etc.
Pricing
| | |
| --- | --- |
| Initial Consultation (30 minutes, fee will be applied to the total of your full acupuncture treatment) | $25 |
| Initial Acupuncture Session (1-1/2 hours): | $165 |
| Follow-Up Acupuncture Session (1 hour): | $110 |
| Mini Acupuncture Session (1/2 hour): | $60 |
| : | |
| Initial Facial Cosmetic Acupuncture Session (1-1/2 hours): | $225 |
| Follow-Up Facial Cosmetics Acupuncture Session (1 hour): | $175 |
| Mini Facial Cosmetic Acupuncture Session (45 minutes): | $120 |
Payment
Cash
Check
Mastercard / Visa / American Express
Hours Available (By Appointment Only)
Mon – Fri: 10 am – 7 pm
Weekends (Sat & Sun): Please inquire about availability and rates
24-hour Appointment Cancellation Policy (no exceptions)
If you miss your appointment, cancel or change your appointment with less than 24 hours notice, you will be charged for the full amount of the service that had been scheduled during that time slot.  All appointments must be held on credit card in order to uphold this policy.
Cancellations with less than 24 hours notice are difficult to fill. By giving last minute notice or no notice at all, you prevent another patient from being able to schedule into that time slot.
What is Chinese Medicine & Acupuncture?
Chinese Medicine and Acupuncture have been the widely accepted and used medicine and healing therapy in China as well as most Asian countries for thousands of years. Its' effective in treating the root and causes of diseases and disorders have notable results and effects by utilizing the human body's own resources and ability to heal itself. Chinese medicine is a very safe, minimally invasive, systematic, and holistic approach for treating many disorders and illnesses. The approach to healing the body begins with finding out the underlying imbalance of the body from a physical, emotional, and spiritual view and finding a way to bring balance back to the body in each of those areas to achieve maximum health and wellness.
Acupuncture is one of the prime modalities of Chinese Medicine that utilizes the insertion and retention of very fine filiform needles into very specific points on the body that work synergistically with each other to stimulate, restart, and reconfigure the way the body should begin the healing process for any and all health conditions.
What can Acupuncture and Chinese Medicine treat, and does it work?
The World Health Organization (WHO) recognizes acupuncture as an effective treatment modality for many conditions, including:
Musculoskeletal Disorders (Low back pain, carpal tunnel, arthritis, tennis elbow and TMJ)
Eye, Ear, Nose and Throat Disorders (Toothache, earache, sinusitis, rhinitis, and laryngitis)
Respiratory Disorders (Colds and flu's, bronchitis, asthma, allergies and emphysema)
Circulatory Disorders (Hypertension, high cholesterol, artherosclerosis)
Gastrointestinal Disorders (Food allergies, nausea, indigestion, diarrhea, constipation, ulcers, irritable bowel syndrome)
Urogenital Disorders (Cystitis, incontinence, , prostate issues)
Gynecological Disorders (Irregular menses, Endometriosis, PMS, infertility, menopausal syndrome, fibroids)
Psycho-emotional and Neurological Disorders (Depression, anxiety, insomnia, headache, migraine, trigeminal neuralgia, post stroke paralysis)
What should I expect to feel after my Acupuncture treatment?
Each person's body and health are different, and their disorders and symptoms also manifest themselves differently from one person to the next. The same philosophy goes for how people react to Acupuncture. The most common and notable things that people experience after their session can include:
Light-headedness or drowsiness
Relaxation or a surge of energy
Tension and stress reduction
Improved and more fulfilling sleep
Improved digestion and appetite
Relief of pain symptoms, if any
What does Acupuncture feel like?
Acupuncture needles are very thin, filiform needles that are finer than a strand of hair. The insertion if quick and most often painless.
The manipulation of the needles after insertion is used to enhance the effectiveness of the treatment, and patients often report either:
A tingling numb feeling
A warm sensation
A traveling feeling up or down their body
A dull and heavy sensation
Any and all of these sensations are what can indicate that the needles are properly stimulating the acupuncture points.
How many treatments will I need?
The number of treatments depends on the ability of the person's body to:
Respond to the needles and begin the healing process.
The severity and duration of the illness or condition. Most acute conditions will only require 1 – 3 treatments, while more chronic conditions can take anywhere from 5 – 15 weeks of treatment.